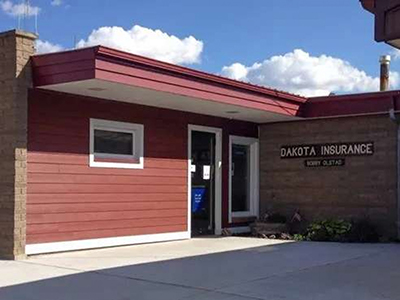 DAK Insurance Agency is independently owned and operated by Daniel Farstveet. Dan has 23 years of experience in the insurance industry, working previously as an agent for Nodak/Farm Bureau Insurance until 2019. He then purchased DAK Insurance Agency from Barbara "Bobby" Olstad, who had owned and operated the agency since 1993. Bobby retired April of 2021. Dan is licensed in North Dakota, South Dakota and Montana.
Dakota Insurance offers a full line of insurance products from home to farm, business to crop, recreational vehicles to life, health and long term care. One of our specialties is high risk auto insurance. We offer many different companies to work with, so we can usually find the best fit and price for your current situation.
Joining Dan in the office is Kelli Mattern with 22 years of experience as a licensed producer and CSR Skylar Sheffield with 1 year of experience.
We are open 8 am to 5 pm Monday – Thursday and 8 am to Noon on Friday's and offer hands-on personal service as well as current technology options for whatever suits your needs and lifestyle.